What's On When and Where
A summary of the main things that are currently happening in the Benefice is here in one place, with the necessary information for you to join in…
Join us for our autumn Sunday Services!
Great news! We're back in our church buildings on Sundays. We're following a three-week rotation between our largest three church buildings – Aslockton, Whatton and Orston – so that we can accommodate as many people as possible, whilst maintaining social distancing.
Our October and November Sunday services (including Remembrance Sunday, especially for which please follow our request to book a place, since we know that many people will wish to join us) are as follows: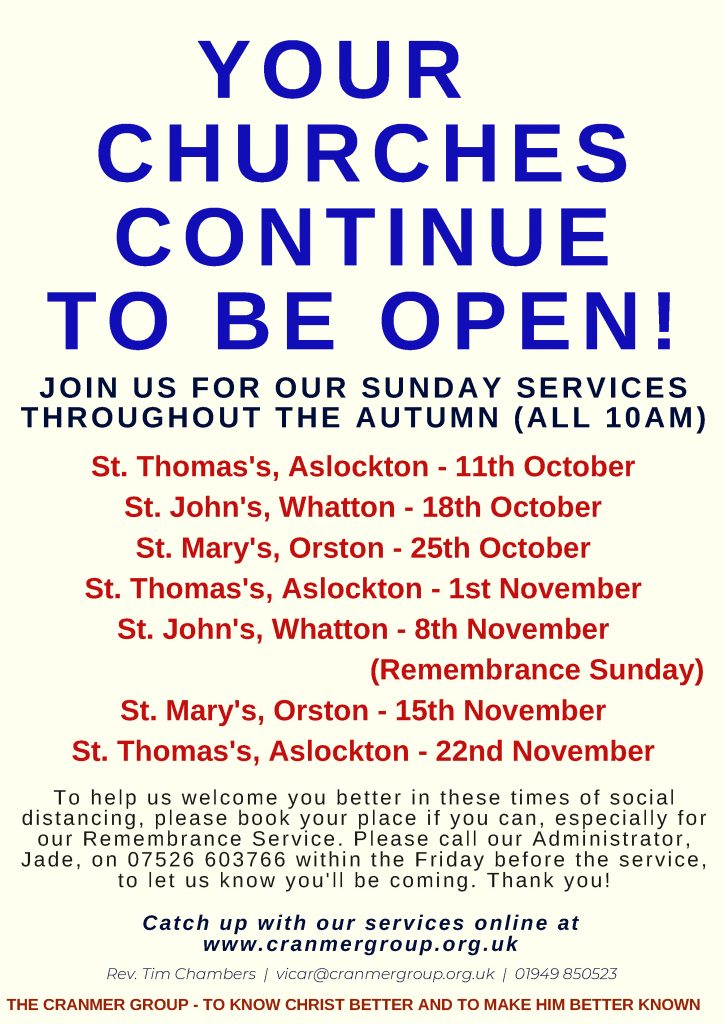 You can join in with recordings of our services later, on our YouTube channel, or in some cases as an audio file on our podcast webpage.

Online Prayer
To join Morning Prayer on Zoom, Wednesdays & Fridays 9.00-9.30AM, click here (meeting ID: 873 3636 1158; Password: 629570).
Morning Prayer is however taking a brief holiday, and will return on Wednesday October 28th.
Thursdays' Zoom Evening Prayer no longer takes place, due to the Diocesan RealLIFE discipleship course which we now have the pleasure of hosting on Thursdays, at St. Thomas' Aslockton.
Private Prayer
Our church buildings are now also open for private prayer – details of which of our six churches are open on which days and when are below. However, as of September, due to services in church on some Sundays and the Real LIFE course in the church each week, St. Thomas's Aslockton will no longer be open for prayer during the week – join us on Sundays instead!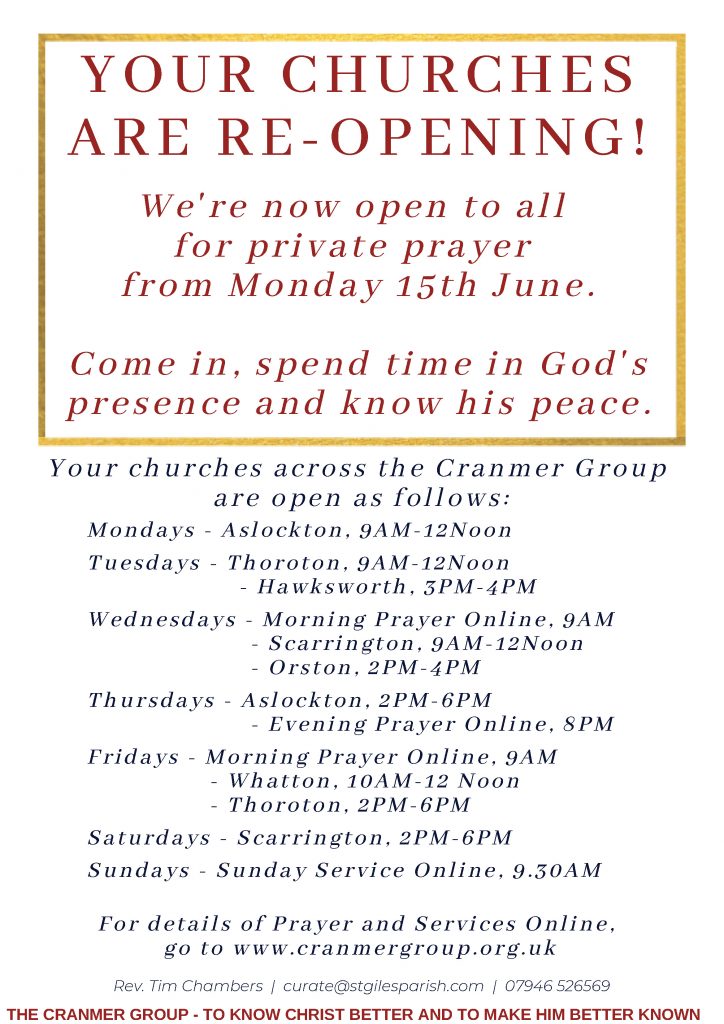 And in this continuing strange season, which remains very challenging for many in our communities, I'm reminded of the opening verses of Psalm 121, which are on my white stole from my deaconing:
I lift up my eyes to the hills –
where does my help come from?
My help comes from the Lord,
the Maker of heaven and earth.
He will not let your foot slip –
he who watches over you will not slumber;
indeed, he who watches over Israel
will neither slumber nor sleep.
May they be of comfort to you at this time, however you are feeling.
Do please contact me (details below) if there is any way in which I or our church family can help you, in practical ways, or in prayer.
May you know God's resurrection hope – and the fruits of His Holy Spirit: peace, joy and love!
God bless,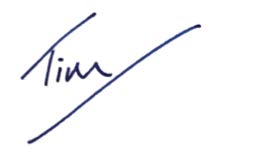 Rev. Tim Chambers
Vicar
The Cranmer Group
E-mail: vicar@cranmergroup.org.uk
Phone: 01949 850523
Mobile: 07946 526569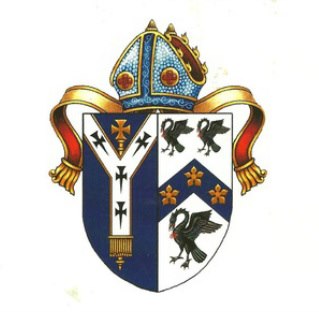 Welcome…
We are the Cranmer Group of parishes formed in 1967 embracing the villages of Aslockton, Hawksworth, Orston, Scarrington, Thoroton and Whatton. We are proud of our connection to Archbishop Thomas Cranmer, Archbishop of Canterbury at the time of Henry VIII. Cranmer was born in Aslockton and worshipped in Whatton church.
Mission
The Cranmer Group, as part of The Church of England, aims to be an authentic and accessible Christian community that faithfully worships and serves God.

We believe that God's love leads Him to make Himself known through His Son, Jesus Christ, whose story is told in the Bible.

It is our joy to help people know Jesus as Lord and Saviour and we wish lovingly to support, nurture and encourage belief.

As disciples of Jesus, we strive to be faithful to God's Word. We recognise that the Good News is life-changing, and this begins with us.

As we reach out through service in our communities, we seek to respond with gratitude to all that God has done for us in Jesus by living lives that match the words that we speak.
Find Us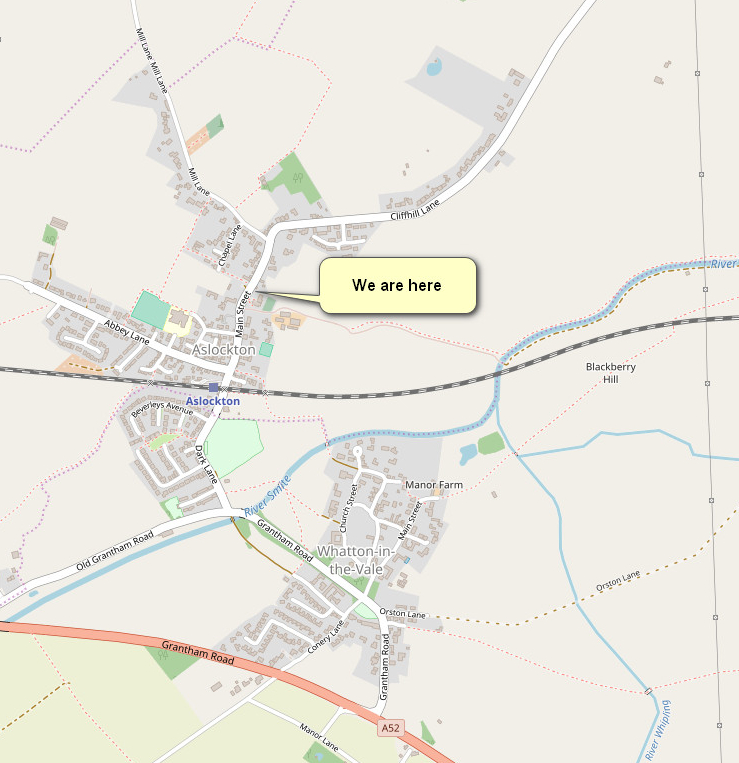 Safeguarding in the Cranmer Group
The Cranmer Group take Safeguarding seriously, ensuring that children and young people as well as adults are kept safe whilst in our care is an integral part of our church life. If you have any concerns about safeguarding please contact the Cranmer Group's Benefice Safeguarding Lead, Amy Taylor, on 01949 358309 who would be happy to discuss any matters with you.
In the Southwell Diocese, the Diocesan Safeguarding Team (Diocesan Safeguarding Adviser: Julian Hodgson) can be contacted on 01636 817200 during working hours.

For non-urgent advice and queries, please email the Safeguarding Team at Safeguarding@southwell.anglican.org
If you have an immediate or emergency safeguarding concern, contact the Police on 999 or the statutory agency for a child or vulnerable adult in Nottinghamshire:
MASH (Multi-Agency Safeguarding Hub), on 0300 500 8080.
Other out of hours contacts for Children & Adults are Nottinghamshire: 0300 456 4546, Nottingham City Council: 0115 876 1000 or Bawtry: 01302 796 000